An extended weekend in Weimar
Along the railroad connecting Halle (an der Salle) to Weimar, even at the height of summer, fifty shades of green and gushing clear streams envelope the passers-by. Vineyards glide from steep green hills, an ancient castle sits on a mountain top, and dots of brown, black, and white kettle from nearby farms catch one's eye as they lower their gaze from the flight of the preying birds in the azure sky.

An hour-long intro to the beautiful, lush surroundings of Weimar, the birthplace of the last worth-remembering 20th-century regime in Germany. And while Weimar isn't among Germany's top-ten green cities, after so many years without leaving Berlin, it felt like visiting a nature reserve- and we spent four days enjoying the refreshment.
We fell in love with Weimar quite immediately. Making our way to the Airbnb between the city and Tiefurt - a small district the locals fondly call god's armpit - everything was quiet, and everywhere was clean. After dropping our luggage and asking for a recommendation for dinner, we walked along Eduard-Rosenthal-Straße back to the city, and our first stop was the amazing Park an der Ilm.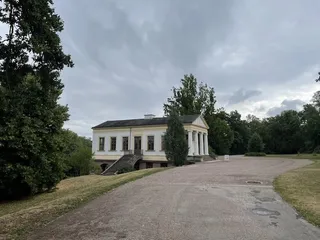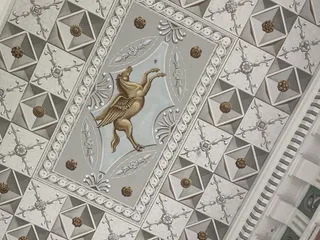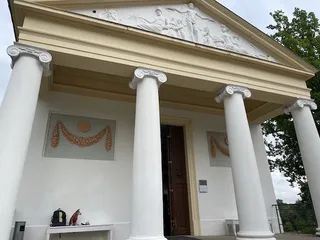 Take your time
The current landscape of this 48 hectare park had hardly changed since 1776 when Johann Wolfgang Goethe redesigned it; he replaced the Baroque symmetry with an 18th-century romantic English garden chic. The Park an der Ilm is like an all-you-can-eat treasure hunt, where your trophies include Templar's architecture, a serpent stone, various bridges, and a canopy of ginkgo, black walnut, black alder, and many other trees.
But nothing about the park urges you to rush through points of interest. On the contrary, it encourages one to linger and get lost. There are plenty of places to rest, in the shade or sun, on a bench or a meadow. Helpful-but-somehow confusing signs, in German and English, point you to nearby attractions; maybe you'll follow, perhaps you'll always be 300 meters away from finding; it doesn't matter: Your visit to the Park will be fulfilling nonetheless.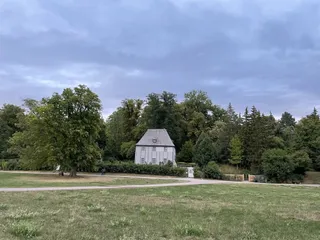 Although we visited the park every day, we haven't found all the attractions around the area we managed to cover. Still, we saw the place we loved the most - Goethe's garden house on the eastern slope - every time.
That's not all, folks
If you're visiting Weimar and like vast parks, you're in for a treat. In addition to Park an der Ilm you can enjoy:
Park Schloss Belvedere
The Baroque castle and the 43 hectare park surrounding it are a fantastic half-day trip. You'll first visit the Orangerie - a lovely structure filled with magnificent flowers, fruit trees, birds, and butterflies flying around. Around it is a courtyard; an open-air exhibition featuring stories of the gardeners' families and the plants they cultivated in the cottage; and many paths (partial accessibility) that will lead you to a gazebo, a soviet cemetery, and two fountains.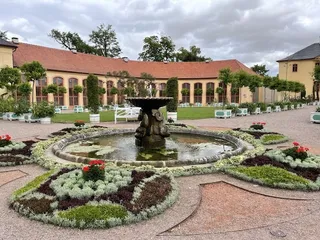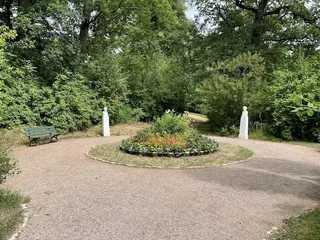 Schloss und Park Tiefurt
The extensive park surrounding the summer residency of Duchess Anna Amalia of Saxony-Weimar and Eisenach is a bit far from the main attractions of Weimar, but the calm scenery is worth the trip. It's an early sentimental landscaped park with picturesque niches, sculptures, and monuments. Accessible by bus (Number 3) from the city center.

We only spent four days in the city, so there's still so much to see. On our next trip (right after revisiting Park an der Ilm), I want to check:
The Weimarhallen Park behind the Bauhaus museum.
Fürstengruft - the Ducal vault and The Historical Cemetery - built by the neoclassical architect Clemens Wenzeslaus Coudray for the Saxony-Weimar and Eisenach dynasty, houses the remains attributed to Friedrich Schiller on 1827 and Goethe on 1832. Fun fact: Coudray also designed the two poets' coffins and the doors and benches of Goethe's garden house.
Coming up next: What else is worth visiting when you're in Weimar, and what did we have for dinner?