So, what else did I like in Weimar?
Read on to find out everything else I liked in Weimar (besides the amazing Park an der Ilm)?
Weimar is a beautiful city, but for the full experience, it's best to arrive by train. Stepping out of the central train station, the colorful garden of August Baudert Platz is welcoming visitors, hinting at the green and loveliness that await ahead.
The good, the bad, and the ugly
But before indulging in all that Weimar has to offer—and there's quite a lot—an open-air exhibition asks you to remember the city's monstrous past. Sixteen enormous portraits, made by local photographer Thomas Müller, invite you to look into the eyes of Holocaust survivors. "Let us admit that it is somewhat perverse to see German classicism and the Nazi concentration camp intertwined", wrote Hungarian author Imre Kertész, a Nobel Prize winner and Buchenwald survivor, in his 1994 essay, The Invisible Weimar. The good, the bad, and the ugly of its past are present wherever you go.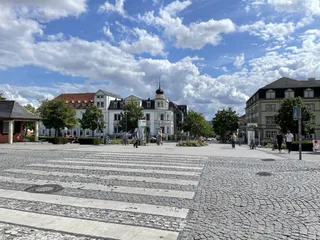 A is for architecture, B for Bauhaus
Wandering around the city's streets, where only a few cars passed by, we could admire its architectural gems: The Neo-gothic town hall on Marktplatz; the early renaissance rebuilt townhouse, now hosting the tourist information office; the former Duke's baroque palace, home of the Franz Liszt School of Music since 1951. Weimar's post-world-war-II renovated buildings almost make you forget that its center was partially damaged by the US Air Force bombing in 1945.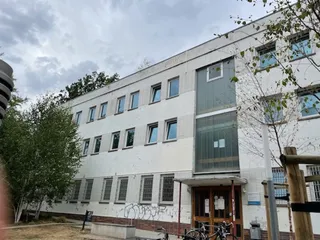 One can't write about Weimar's architecture without mentioning this is the birthplace of the Bauhaus Design and Architecture School. The city is like an amusement park for Bauhaus enthusiasts, with many points of interest. Our favorite is Haus am Horn, the first model building constructed according to Bauhaus design principles. Georg Muche designed it for the 1923 Bauhaus exhibition, and Walter Gropius' architectural office oversaw the construction. Traveling with our dog and reluctant to stand in line, we circled the model house and admired every room from the outside—a truly amazing must-see location.
Just a spoon full of mustard
Our only trip outside Berlin since Covid-19 stopped all traveling was to Brandenburg an der Havel. It was New Year's Eve weekend, so many restaurants and cafes were closed (for humans or dogs). I was hangry, so after giving up on quality and settling on junk food, I spent the evening throwing up and made my first new year's resolution: I shall never be hungry again. Luckily, summer-time-Weimar has a lot more to offer, and dogs are relatively welcome.
Here's where I ate: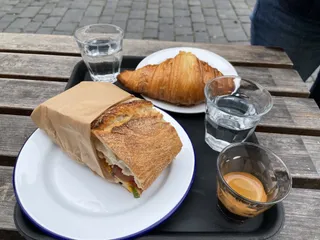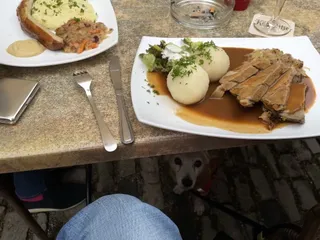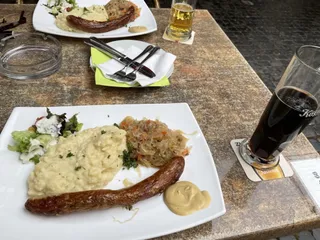 Three bonus tips
There are over 20 fountains sprinkled around the city; check out the hidden courtyard fountain at the Goethehaus.
If you like old trains or are a fan of the GDR, visit the Eisenbahnmuseum (open on Saturdays). It's so much fun.
Spend a night at Hotel Elephant, a luxury hotel on Marktplatz, where Friedrich Schiller, Martin Buber, and Listz spent a night (or a few weeks).